The Sanitätshaus blu GmbH from Fellbach takes over the Sanitätshaus Gunser GmbH
Modern meets tradition. Working together for your health in the future.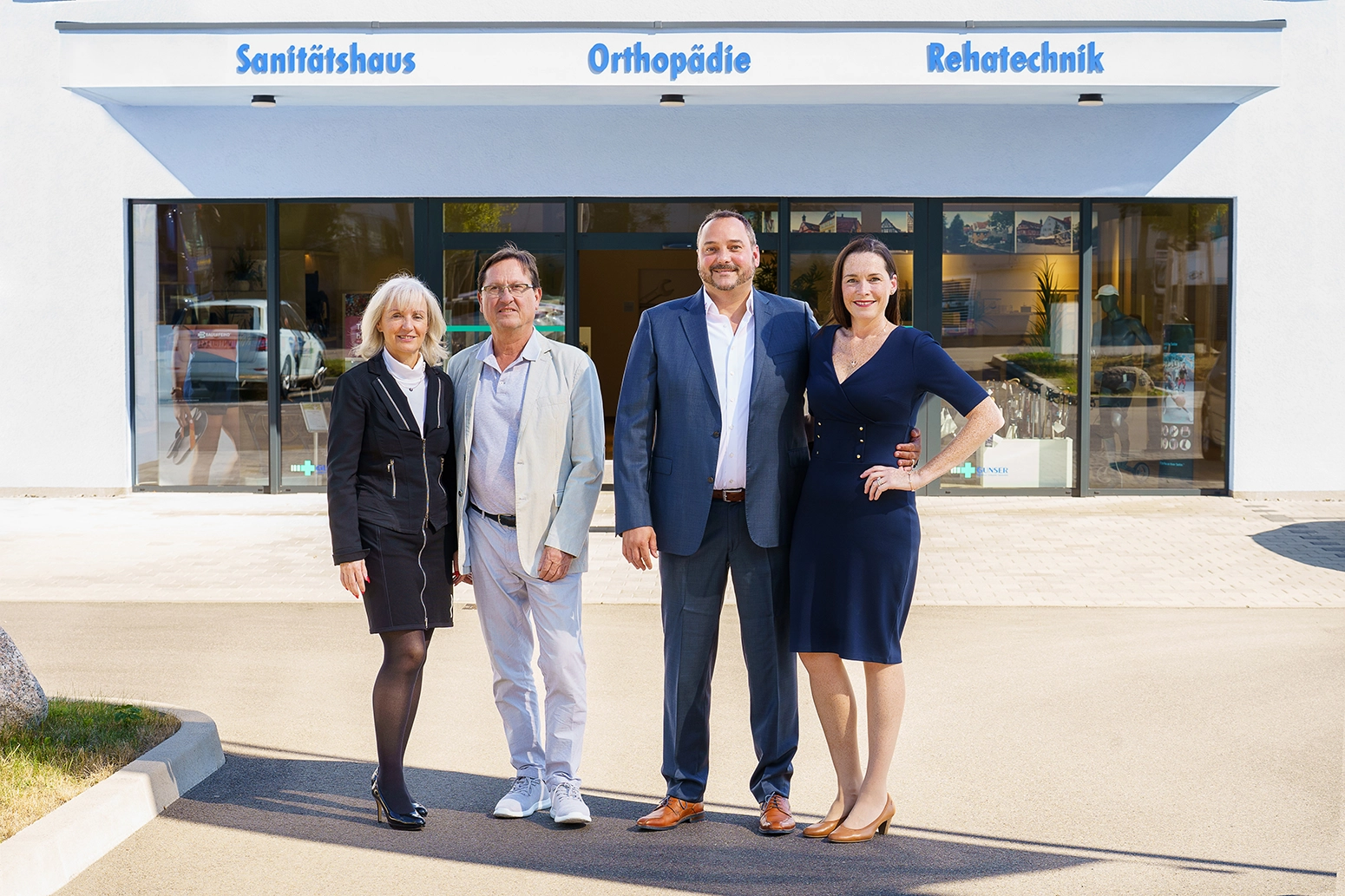 (v.l.n.r.) Annette & Armin Gunser - Sanitätshaus Gunser GmbH, Joachim Hackl & Dr. Denise Brady - Sanitätshaus blu GmbH
Dear Customers,
We are happy to announce that Sanitätshaus blu GmbH took over Sanitätshaus Gunser GmbH on July 15, 2022. The Sanitätshaus Gunser has earned an excellent reputation over the past 7 decades and is an established name in the region. We are proud to be able to continue this tradition.
In the future, the two companies will act together and offer a comprehensive range of products in 13 branches in the Remstal and in the Stuttgart area.
"As a result of the merger, we are able to cover even more service areas that the individual houses have not previously offered. In addition to orthopedic technology and medical supplies, we can now also offer rehabilitation and shoe orthopedic technology as well as prosthetics in all branches," says the new shareholder and managing director of both companies, Joachim Hackl.
"The Sanitätshaus blu GmbH was founded in 2011 and has established itself in a few years on the market with future 8 branches as a constant. The resulting synergy with the Gunser medical supply store serves the well-being of the customers, since a larger range of services has now emerged in both companies. Our customers do not have to change their minds. The medical supply store blu and the medical supply store Gunser will keep their locations and names. The known contacts also remain almost unchanged."
"Many patients are cared for in the longer term by a medical supply store. A relationship of trust often develops and people rely on each other. It is very important to us that these connections are maintained. Despite the merger, the personnel structure will not change. We are very proud to have more than 110 employees at our medical supply stores, for whom we can offer a stable professional future." reports the shareholder Mrs. Dr. Denise Brady.
Mr. Armin Gunser, who has managed the Gunser family business for almost 8 decades in the 3rd generation, has retired from management. "I am very happy that we have now been able to place our company, which my wife and I have run with a lot of passion for 26 years, in good hands. It's nice to see that things are progressing." adds Mr. Armin Gunser.
Annette Gunser will continue to support the company as managing director during the transition period.
Your Sanitätshaus blu & Sanitätshaus Gunser Team