The Sanitätshaus blu GmbH from Fellbach takes over the Sanitätshaus Gunser GmbH
Modern meets tradition. Working together for your health in the future.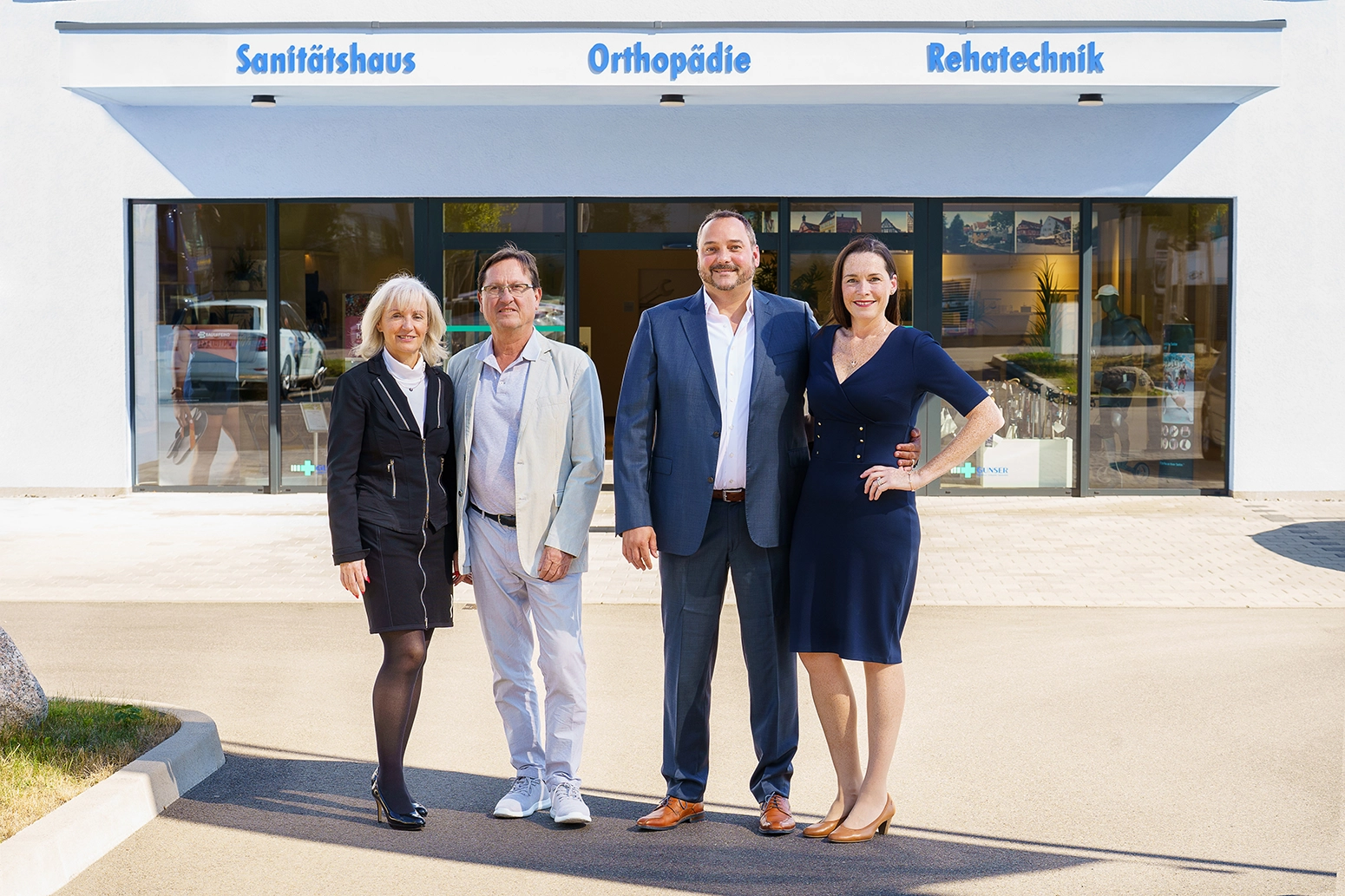 (v.l.n.r.) Annette & Armin Gunser - Sanitätshaus Gunser GmbH, Joachim Hackl & Dr. Denise Brady - Sanitätshaus blu GmbH
Dear Customers,
We are happy to announce that Sanitätshaus blu GmbH took over Sanitätshaus Gunser GmbH on July 15, 2022. The Sanitätshaus Gunser has earned an excellent reputation over the past 7 decades and is an established name in the region. We are proud to be able to continue this tradition.
In future, the two companies will work together and offer a comprehensive range of products in 13 branches in the Remstal and Stuttgart area.
"This merger enables us to cover all product and service areas, which the individual companies did not in the past. In addition to Orthopaedic Technology products and medical aids, we now offer product solutions and services for rehabilitation, shoe orthopaedic technology and prosthetics" says owner and Managing Director of both companies, Joachim Hackl.
"The Sanitätshaus blu GmbH was founded in 2011 and within a few short years has grown to a considerable size with 60 employees and 8 branches. The synergy effect of blu's acquisition of Gunser, can only bring benefits to our customers ; a wider range of products and services that are readily available and a larger team of specialists at hand for all individual needs. Saniblu and Gunser will continue to operate at the same locations and under their respective business names. Employees and contact persons for both companies will remain the same."
"Many patients have been customers at the Gunser branches for decades and have built up a special relationship with the staff there. It is of upmost importance to us to maintain this trust. There will be no changes on the staff front and customers can expect to continue to deal with the contacts they were used to. We are proud to have over 110 employees now working in our company, whom we offer a stable work environment with exciting career prospects", says owner Dr. Denise Brady.
Mr Armin Gunser who has led the almost 8 decade year old company in the third generation, will retire. "I am very happy that the company myself and my wife ran passionately for the past 26 years, will be left in good hands. It is nice to see that the story continues" adds Mr. Gunser.
Annette Gunser will continue to support the company as managing director during the transition period.
Your Sanitätshaus blu & Sanitätshaus Gunser Team