We are here for you,
the master companies of blu...
In all our blu branches you will find our committed orthopaedic technician masters and orthopaedic technicians, who only take care of the right supply of aids for your therapy.
Our service also includes home and clinic visits to instruct you or your family members in the correct use of our orthopedic aids. In addition to supplying orthoses and bandages, blu has also specialized in the manufacture of lumbar support girdles and orthopedic insoles. You will not only receive classic insoles, but also sports, sensorimotor and neurophysiological insoles, which we will manufacture individually for you. The professional competence of the individual employees represents the most important service for you.
The offer in our blu branches includes orthoses, bandages and shoe inserts as well as compression therapy. Here you will be personally advised by our specialist staff on the various options for compression fittings.
Of course, you can also choose from various medical supply store products - from exercise sticks and seat cushions to blood pressure monitors.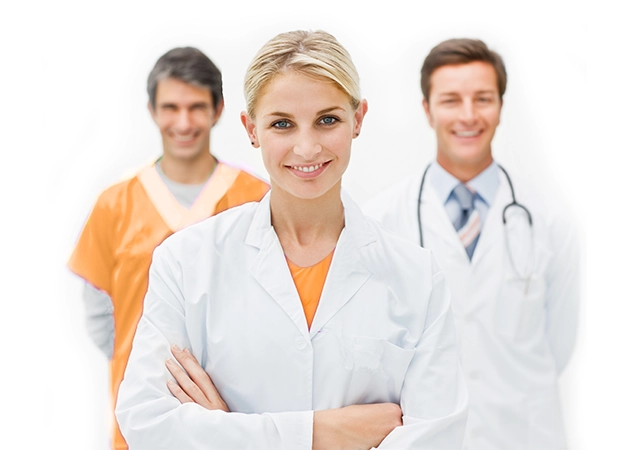 More than just a medical supply store, our philosophy...
"blu stands for innovation in healthcare with an absolute focus on service and quality. Best trained employees advise and provide our customers with the latest and highest quality tools in the branches or at home. The close exchange with customers and doctors is paramount to ensure the right care for your therapy."
Joachim Hackl
Managing Director of Sanitätshaus blu GmbH
"A key point of the blu philosophy is to promote and support regional sports initiatives and public health projects. Whether it's football or tennis clubs, basketball teams, hockey & golf clubs, school projects or, more recently, opening and running our own Covid testing center to fill local supply gaps - blu is proud to be at the forefront be. This commitment is part of our culture to promote and maintain health in all ages of our community."
Dr. Denise Brady
Managing Director of Sanitätshaus blu GmbH

Around you
Our branch network stretches from Lake Constance to Rhineland-Palatinate, which enables us to be at your side directly on site. Our decentralized supply concept with meanwhile 8 qualified branches and our flexible specialists in the field ensure that we are also close to you if necessary.

Master workshops
In order to guarantee you care at the highest professional level, each of our branches is managed by a master orthopaedic technician. Mastery of manual skills and extensive theoretical training in areas such as anatomy, pathology and material science are the essential prerequisites for obtaining the master's degree. That's the theory. In practice, you benefit from our expertise. 100%.

Certified
Our company is certified according to DIN EN ISO 13485. Guaranteeing outstanding quality in all processes is our dedicated goal and requires a high degree of organization. For this reason, we have implemented a complex quality management system that also fully complies with the standards for the manufacture and sale of medical devices.